Yuri Zhirkov is a major doubt for Russia's upcoming World Cup game with Croatia. This is a quarter-final clash that could ultimately replace the show into the semifinals – a feat that they last achieved during the Euro 2008 competition. Zhirkov was a surprise candidate in the Russian national team squad, but the former Chelsea winger has certainly justified his inclusion by being able to perform admirably over the course of the tournament. He played a crucial role in the victory over Spain on penalties. It was one of the remarkable results for Russia, as they were facing backs against the wall for much of the 120 minutes before winning the game on penalties.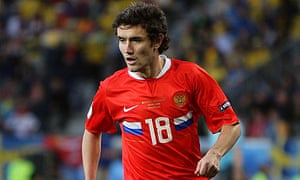 However, a major issue for Russia was the injury forZhirkov during the game against Spain. The Zenit St Petersburg defender appeared to suffer a serious injury which has now been diagnosed as an inflammation of a calf tendon. It is expected that this injury will take at least a couple of days in order to cure and this leaves Russia in a very troublesome position as fast World Cup qualification is concerned. With a lot of expectation arising surrounding the national team, Russia will be expected to perform even better than they have done over the course of the campaign. They now have to deal with the absence ofZhirkov. It is expected that the defender will be replaced by Vladimir Granat in the upcoming game against Croatia.
"In the coming days he will undergo treatment at the location of the national team. The exact terms of his return at the moment cannot be revealed," said a statement on Russia's Twitter account. The experience of players likeZhirkov has always been crucial in major tournaments, but it is even more important considering that Croatia are a talented bunch of players capable of dominating position.